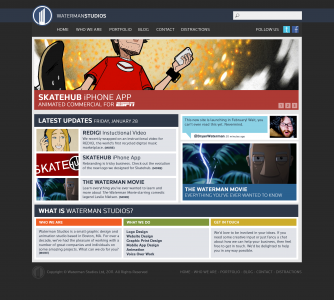 Dear People of the World,
I'm very happy to announce that with the help of the design wizards behind IntrActv, the all new Waterman Studios website is now live! Like most of you (all of you,) I too feel that an update is long overdue. However, I can assure you that with the amount of content that we have painstakingly crammed onto this new it's going to be difficult to leave without feeling thoroughly updated.
We'd love to hear what you think of the new site, so please feel free to either comment below or email us using our Contact page. What do you like? What don't you like? What would you like to see more of? All constructive feedback is welcome.
Enjoy your visit!
Bryan Waterman